Venice Beach Neighborhoods
If you'd like to receive new listings for any of the neighborhoods below the minute they hit the market, contact me to set you up.
Venice is a funky community and its neighborhoods are an eclectic mix. In Venice you'll find beautiful craftsman homes built in the early 1900's side by side with today's contemporary architecture.
Milwood Trapezoid
Bounded by Abbot Kinney Blvd., California Ave, Lincoln Blvd. and Venice Blvd, Milwood Trapezoid offers craftsman homes, contemporary architecture, walk streets, high hedges for privacy and a funky traffic circle. This area also has an active neighborhood association.

Beach Area
Running from Santa Monica south the Ballona Creek, the beach area runs along the ocean for 1.5 miles with small lots and plenty of multi-family zoning, The south part of this area boasts some spectacular homes with the mid area being the commercial boardwalk and the northern tip being residential again.
The Venice Beach Area also includes the gorgeous sub-neighborhoods of Marina Peninsula, Ballona Lagoon East (Grand Canal), Ballona Lagoon West and Silver Strand. Many people mistakenly think these sub-communities are part of Marina del Rey,

Venice Canals
Thanks to Venice of America developer Abbott Kinney, we have canals reminiscent of Venice, Italy. Not all of the canals survived, but we still have a small network of six canals with approximately 400 single family homes, ranging in style from tiny cottages to 3000 sq. ft. contemporaries.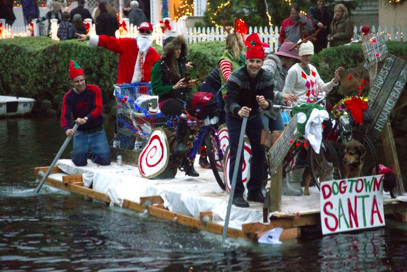 The canals are bounded roughly by Eastern Court on the east, Court A on the south, Strongs Drive on the west and Court E on the north. There are four east-west canals (Carroll Canal, Linnie Canal, Howland Canal and Sherman Canal) and two north-south canals (Eastern Canal and Grand Canal).
Not to be missed each year is the Venice Canals Christmas Boat Parade sponsored by the Venice Canals Association. Awards are given for best dressed boats, homes and bridges.

President's Row
President's Row is the area bounded by Venice Blvd. on the north, Lincoln Blvd. on the east, Washington Blvd. on the south and Abbot Kinney on the west. The area has been called "walkable, but this part of Abbot Kinney is decidedly not part of the hippest block in America.